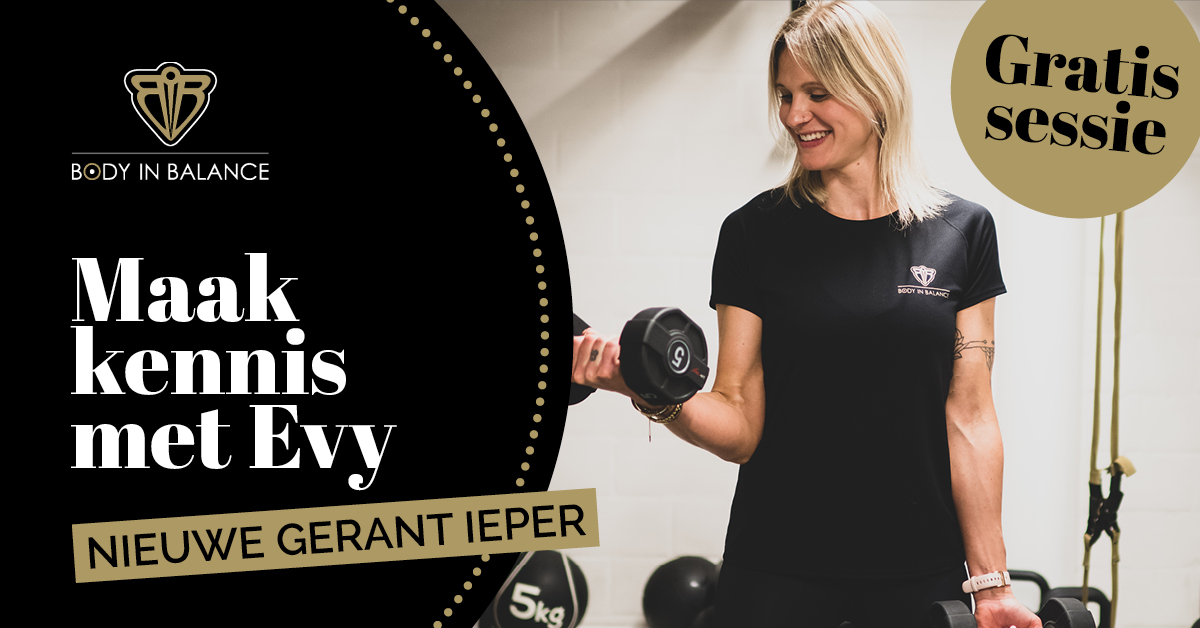 Maak kennis met de nieuwe gerant van Ieper: Evy!
Graag stellen we Evy aan je voor. Ze werkte al een tijdje in het Body in Balance-filiaal van Poperinge, maar vanaf 13 juni wordt ze de nieuwe gerant van de vestiging in Ieper.
We willen je heel graag de kans bieden om Evy wat beter te leren kennen en bieden je dan ook 1 gratis sessie E-FIT, HYPOXI of VOEDINGSADVIES aan.

Evy aan het woord:
"Mijn hobby's en interesses zijn niet verwonderlijk sport, fitness, yoga, alles over gezonde voeding en hoe de mind en body gezond en in balans houden. Ik ben een bezige bij, maar kan zeker ook genieten van een avondje uit, iets gaan eten met vrienden of rustig een terrasje doen na een wandeling of een fietstocht met mijn zoon en dochter."
"Ik hou vooral van krachttraining. Daar haal ik persoonlijk veel voldoening uit. Al zorg ik af en toe ook wel voor wat cardio in mijn trainingsschema. Yoga helpt me om 's avonds na een drukke dag tot rust te komen en ook om mijn mobiliteit te verbeteren die ik nodig heb tijdens mijn krachttraining. Als gerant zijn de combinatie van sport, gezonde voeding, positieve mindset en een nauw klantencontact voor mij de ideale factoren om mij volledig te kunnen 'smijten' in mijn job."
Kom zeker eens lang. Evy zorgt met plezier voor de koffie en een gezellige babbel. 😊
Bovendien kan je nog genieten van enkele mooie acties:
Boek meteen  je gratis sessie in met Evy via het contactformulier.